Anreise
Die Anreise zur Schulung mit KLM verlief ohne Probleme. Von Frankfurt nach Montreal, mit einem kurzen Stopp in Amsterdam und dann entspannt mit dem Auto über verschneite Landschaften nach St. Albans, VT, USA.
Auf dem Flug nach Amsterdam gab es viel Spaß im Flieger, da einer der Supervisors an Board seinen letzten Flug auf dieser Maschine hatte und sein Team ihn gebührend verabschiedete.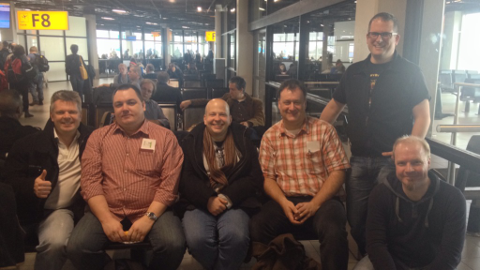 Am Grenzübergang von Kanada in die USA lernten wir, dass auch hier die Bands Kraftwerk und Rammstein sehr beliebt sind und der Grenzbeamte sogar eine sehr seltene Erstausgabe von Kraftwerk auf Vinyl besitzt.
Tag 1
Beginn um 9:00 Uhr. Der Jetlag ist an diesem Morgen noch nicht so richtig da und so freuen wir uns alle auf Dan Linstedt und seine Weltpremiere des Advanced Data Vault 2.0 Boot Camp. Wir bekommen hier einen Intensivkurs, d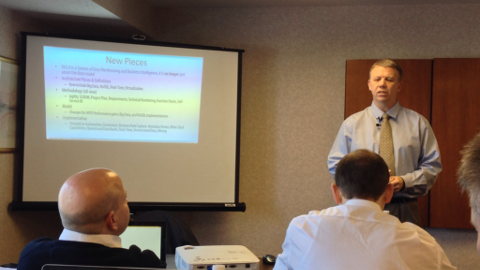 er auf zwei Tage komprimiert wurde.
Große Überraschung im Schulungsraum. Da steht ein Filmteam. Wow. Und jetzt? Ein spezial-gelagerter Sonderfall in St. Albans. Hier meine Visitenkarte… Ich schweife ab….
Aaah, ein paar erklärende Worte von Dan lösen den Sonderfall von St. Albans auf. Die Filme erstellt ein professionelles Filmteam da diese das Online-Training auf LearnDataVault erweitern sollen. Super, wir sind Stars!
Tag 1 ist gefüllt mit viel Information über Data Vault 2.0 und was neu ist gegenüber Data Vault 1.0. Dazu gehört unter anderem:
Business Justification

What's New in DV2.0?
Value of Data Vault 2.0
Additional Market drivers
…

Methodology Components

Agility Issues
Methodology DV2.0 & CMMI
KPI's and Estimation
…

Architecture

Data Vault in Business
(Managed Self) Service BI
Architectural Components
…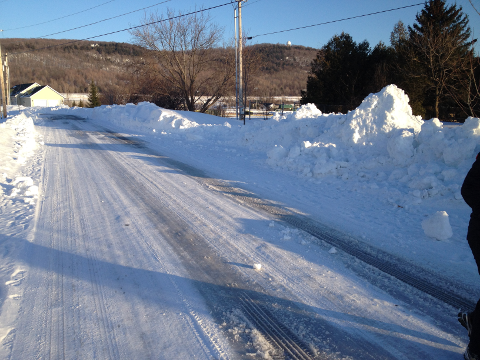 Da war nach fast neun Stunden der Kopf voll und ich bin mit ein paar von uns zum Joggen raus in die von der Sonne beschienene Winterlandschaft. Der Abend ist dann gemeinsam gemütlich ausgeklungen.
Tag 2
Wieder Beginn um 9:00 Uhr, aber dafür heute mit Jetlag. Viel zu früh hat der innere Wecker geklingelt. Heute wird der Intensivkurs richtig intensiv – randvoll mit weiteren vielen spannenden Informationen über Data Vault 2.0.
Heute geht es um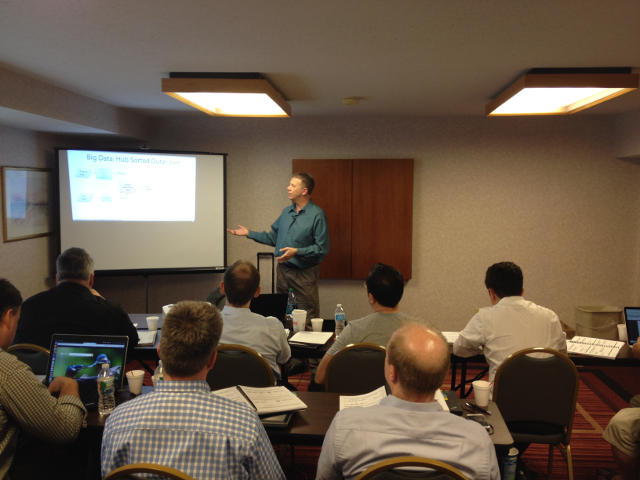 Architecture
Modeling

Concept Modeling
Ontology Modeling
Hashing vs. Squences
…

Implementation

Loading Architecture
Performance View
Dealing with Bad Data
…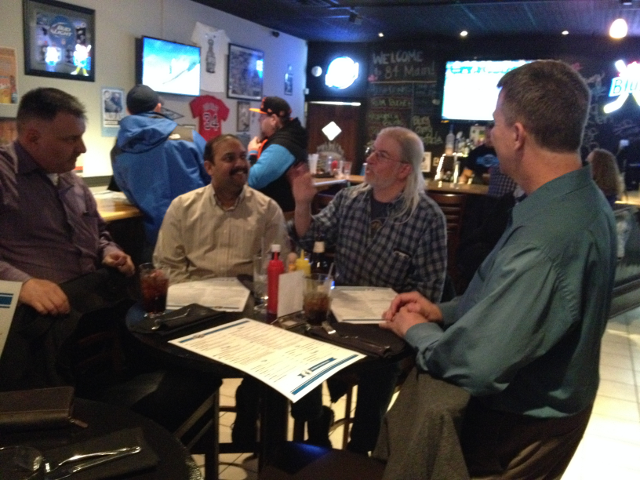 Am Abend reisen bereits die Sprecher und weitere Teilnehmer des #WWDVC an. Gemeinsam feiern wir den Abschluß des ersten Advanced Data Vault 2.0 Boot Camp und den morgigen Starts des World Wide Data Vault Consortium - #WWDVC.