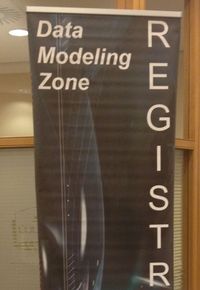 Ich möchte euch über die Highlights auf der diesjährigen Data Modeling Zone in Hannover berichten. Wie schon geschrieben, fand diese am 23./24. September statt.
Sonntag – Abendessen mit den Sprechern
Am Vorabend zur Data Modeling Zone gab es auf persönliche Einladung von Christian Hädrich ein Abendessen gemeinsam mit den Sprechern.
Für mich eine tolle Gelegenheit Dan Linstedt (Erfinder des Data Vault), Steve Hoberman (Veranstalter der DMZ US und EU sowie Autor von Data Modeling Made Simple), John Giles (Autor von The Nimble Elephant: Agile Delivery of Data Models using a Pattern-based Approach), Peter Alons (Seine BI-Projekte wurden mit Preisen ausgezeichnet), George McGeachie (uk.linkedin.com/in/georgemcgeachie Co-Autor von Data Modeling Made Simple with PowerDesigner) kennen zu lernen und mit Martijn Evers (Direktor des MATTER Ausbildungsprogramm, Präsident der holländischen Data Vault User Group) und vielen mehr, die ich bereits in der Vergangenheit kennen lernen durfte, zu sprechen.
Ein toller Abend!
Geschrieben von Dirk Lerner
Zugriffe: 3300